Beirut - Mansions, Museums and People
The 5 a.m. blast outside our Beirut apartment woke us instantly – we sat up and wondered if we'd made a mistake going there…  as many had suggested.
Our 2019 sourcing trip to Lebanon had commenced a couple of hours earlier and we just had time to sleepily greet our Airbnb host Abraham before retiring.
We had wanted to visit this country for some time and were looking forward to enjoying the food and wine as we explored the fabulous history and hunted down the millenia-old crafts.  Our research had created a rough itinerary that took us to places whose names were on the edge of our historical knowledge; Sidon, Byblos, Tripoli, Tyre and, of course, Beirut.
All these plans were now in jeopardy;  we lay awake wondering what to do now… until lightning flashed again across the dark sky a few minutes later!
Funnily enough it was the only time we felt vaguely uncomfortable or in any danger during our whole time, 7 weeks, in Lebanon. We loved Beirut and the Lebanese straight away.  Cultured, passionate, animated and good looking… the people and the place.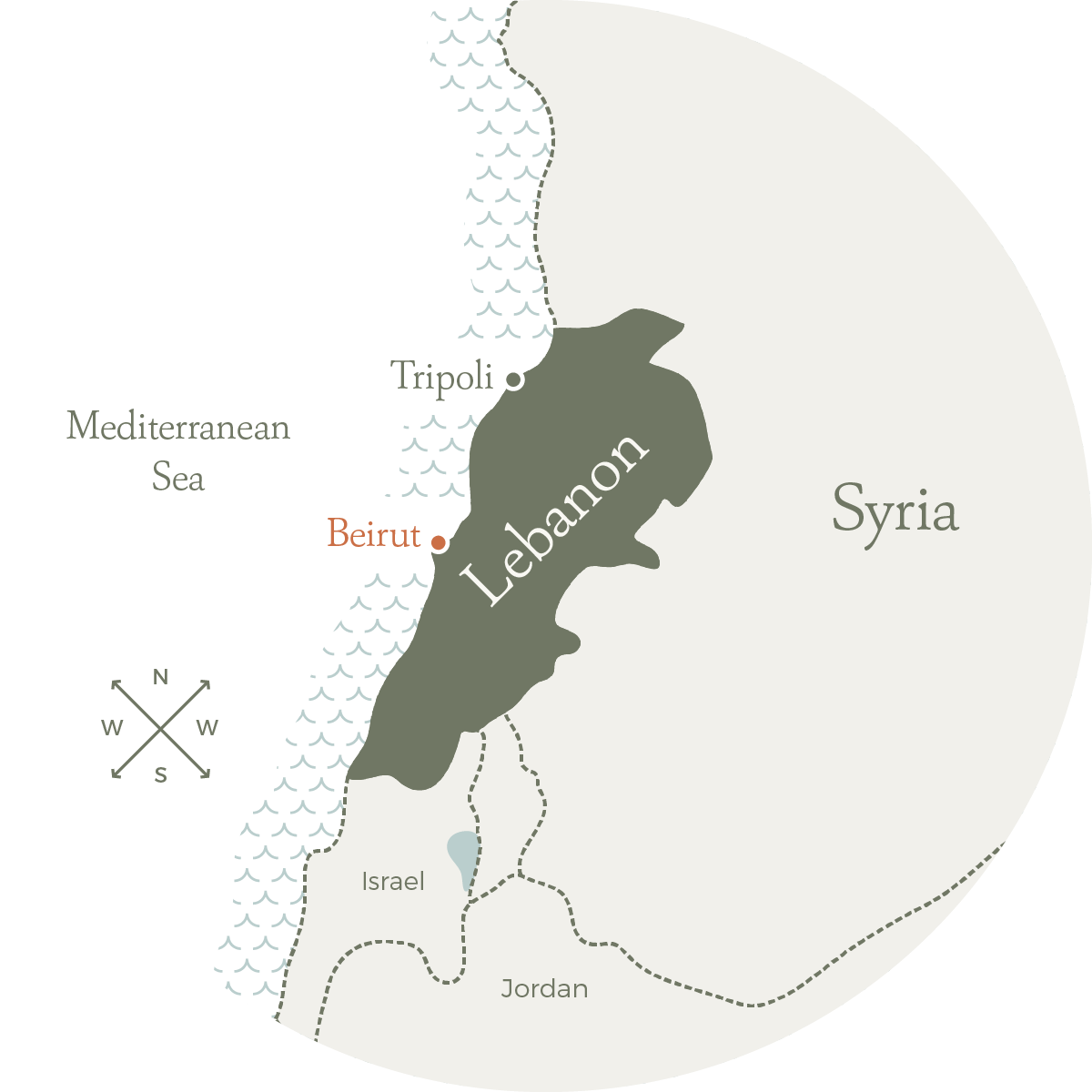 Yes, it has extremes – directly opposite a flea market in the East of Beirut were showrooms for Bentley, Jaguar and Lamborghini. Then there's a mosque sharing a site with a church right on what had been the infamous green line.
Evidence of the past troubles were clear but much of the population seemed to be striving for reconciliation – the politicians and outside factions perhaps less so.
Wandering around this cool, glamorous, not-at-all conservative city we were often greeted with a warm smile, "Welcome to Lebanon" and an offer of a drink or a snack and, of course, a chat.
The overwhelming sense of hospitality and openness of Lebanese people took us by surprise every day.
Beirut (and Lebanon ) felt incredibly friendly and safe!
And then there are the museums! There were two, world-class, ones that were on our must-see list.
First was the National Museum – the building is glorious and a marvel in itself.  It's a showcase for the staggeringly deep history of the area.
The Roman era, although significant, seemed but recent past in Lebanon.
Amongst the impressive exhibits here is a sarcophagus of King Ahiram, the ruler of the ancient Phoenician city of Byblos (10th century BCE), which contains the earliest known inscriptions of the Phoenician alphabet.
Another essential on our list whilst in Beirut was The Mim museum – the finest private mineral collection in the world.
Over a thousand gorgeous, rare gemstones and minerals from different parts of the world, brought to Beirut by Salim Edde, the billionaire founder.  How about a blue topaz gemstone weighing 5kg? Or an uncut diamond of 328 carat? It was impossible to single out the most beautiful gemstone from this man's "hobby!"
We loved our time in Beirut, staying in the quirky apartment of our lovely, cultured and kind host Abraham who has become a good friend. We could have happily stayed there longer but we were eager to see more of this fascinating and welcoming country and we had treasure to hunt down. We visited the Beirut branch of UNESCO who were very friendly but not that well informed about the whereabouts of the actual artisans that we sought. Shortly thereafter we waved adieu to Abraham, hired a tiny Hyundai and headed south, to the ancient Phoenician ports of Sidon and Tyre.
What was ahead? We didn't know but we were sure that whatever happens will be an adventure…
"Don't worry about the traffic lights – they are just advisory for foreigners; but do beware the mopeds, they are complete lunatics".
These were the words of wisdom from a taxi driver in Beirut when we told him we were picking up a hire car and driving the length and breadth of Lebanon.
Heading out from Beirut down the highway to the south we quickly realised that the most dangerous thing in Lebanon is often the driving. There appeared to be no rules and the locals speed and swerve around the huge number of pot holes in their million-dollar cars, old pushbikes, mopeds, massive delivery trucks, and even, once, snowmobiles on the awful roads; and all following their own idea of roadcraft …. Was this a good idea?
A few hairy hours later and we were still alive, and stopping off for a couple of days in the ancient Phoenician port city of Sidon with a hugely atmospheric souk at its heart – the guesthouse we stayed in turned out to be a lovely 600-year-old building on the corniche overlooking a C13th fortress built by the crusaders.
Saida (Sidon)
We had a short wander around in search of a stiff drink (definitely earned after our drive) to find that the town was largely dry but, again, we received a wonderfully warm welcome from the locals.
How could we possibly refuse an invitation from a butcher and his brother to join them for tea and some baklava and, of course, a chat about the world. While I was plied with tea and sweets, the brother explained to Katia that she should probably consider moving to Sidon.
But we now know where to go in Sidon for sausages….
Later that day a coffee shop owner pointed out that, around the corner from our guesthouse, there was an archaeological dig that was currently down 7500 years… and not just traces of someone cooking but buildings! The history in this little country is phenomenal, even in comparison to what we saw in Iran a few years before!
We left Sidon for our next hop south but did so via a detour inland; drawn by curiosity to visit the "settlement" of Mleeta…
formally known as The Mleeta Resistance Tourist Landmark…
informally it's Hezbollah's Disneyland!
Mleeta (aka Hezbollah's Disneyland)
This former camp, built on, and substantially into, a hill was a stronghold for Hezbollah as it overlooks both Syrian and Israeli borders and, so, played an important strategic role in the various conflicts over the years. Now, it stands as a p.r. exercise displaying the Lebanese viewpoint, along with audio-visual presentations, very personable guides, a tank buried in concrete, the underground headquarters complex, lots of captured weaponry, gloriously scenic views, a giftshop and a café serving tea and (very nice) homemade cakes. Quite surreal but recommended!
The various guides and stewards, educated and polite, not hectoring but bored and chatty (it was mid-january so very quiet) were much exorcised by the UK having recently classified Hezbollah's political wing as a terrorist organisation and this elicited the quote of the trip.
We're not terrorists, we're defenders….. we're NOT like ISIS !
I'm not sure how many laws we broke when we bought a Hezbollah fridge magnet from the shop after tea and cakes at the cafe.
But onwards to beautiful, Tyre.
Lovely Sur (or Tyre)
Sur is a beautiful stylish coastal town as far south as we could sensibly go and felt like a perfect place to unwind, look at the sea and gently wander around one of the oldest inhabited places on Earth.
We were treating ourselves to an hotel stay (rare, budget-challenging but the only available option) and this indulgence became even better – out of season the hotel was empty so the manager upgraded us to a suite with balcony opening directly over breaking sea and our own tiny beach…. and, of course, a view to the next door ruins of a C9th fort.
50m down the narrow passage behind the hotel we found a tiny, funky bar and a film crew.
I believe we appeared in the background of some of their shots…. however what with chatting, drinking and being distracted by the ridiculously-good-looking cast, we can't remember what they were filming! So, don't be surprised if you see us on screen when you visit Lebanon – but I bet we're smiling!
For sightseeing, we visited a UNESCO Roman archaeological site in the centre of town which held a huge necropolis and the largest and the best-preserved hippodrome in the world.   We're not showing pictures of that as we're going to be showing pictures of Qalaa in Baalbek soon – the largest Roman temple on earth and pretty much any other Roman edifice pales into insignificance.
However, chatting to a young English couple at the entrance (2 of the very few Europeans we saw in Lebanon) we found that they were from Dorset, now lived and studied at Beirut University, absolutely loved the country, ….. and had been to Drift in Yarmouth!
How ridiculously small is this world?
As ever the highlight was the people of Tyre, welcoming, friendly, and hugely generous.
In the short taxi ride to the hippodrome, the driver had stopped unannounced on a street corner, jumped out and returned with bottles of freshly squeezed orange juice as a gift for his passengers! The only evidence that it was a stronghold of the "feared" Hezbollah were the many flags and the two guys fund-raising at traffic lights by selling postcards (we flashed our Hezbollah fridge magnet and were smilingly waved through)
The Beirut to Damascus highway
thence Baalbek
We could quite happily have spent many days wafting around Tyre – it's one of the loveliest "tourist" towns we've ever been to. However, this was still fundamentally a work trip and, despite the suggestions of the helpful UNESCO office we'd visited in Beirut, we still hadn't tracked down the craftspeople and original pieces that we knew were there.
So, rather reluctantly we set off for a long day's drive up through the beautiful Chouf mountains and their gorgeous villages and forests to cross the famous Bekaa valley, source of astounding food and wine for millennia.
The Beirut to Damascus highway!  There's a road name to conjure with!
Of course, despite it's importance, this motorway had, ermm,  no road markings, no road edges  (mountains, precipitous drops, ice etc), no barriers, no indicators, world-class potholes, and was a single carriageway 2-lane road for much of its length and did I mention snowmobiles?
And yet, the driving is strangely polite.
[Sorry, no photos, Kat hid under the seat for most of the way]
Relieved to arrive at our hotel in Baalbek, the famous Palmyra, a stone's throw from the Syrian border (there's a tank in the hotel parking space so we're safe) – old, rickety and immensely atmospheric – and directly across the road from the immense Qalaa.
The hotel's list of past guests from its glory days is astounding – de Gaulle, Brando, Onassis, Einstein, the Shah of Iran, Nina Simone, Bardot, Cocteau, Kaiser Wilhelm, actually most crowned heads of Europe and afar, etc.  Neglected by the A-list nowadays – can't think why.
We are the only guests in the hotel but Ahmed opens up the bar and finds us a well-deserved whisky and wine.  It transpires he's worked there for a while – 67 years!
Apparently the parties and the stories he could tell… will have to wait.
See our next journal "Baalbek & The Cedars of God"  for:-
The largest Roman temple on earth.
Gunfire (not thunder, this time)
Roman coins (everywhere – not even special!)
Hospital visit (traditional)
and a sat-nav trying to steer us off a 1000m precipice
Oh, and we finally found our treasure