Apatite and Gold Necklace
£1360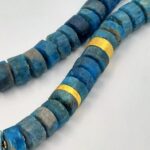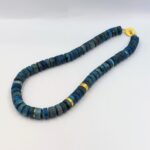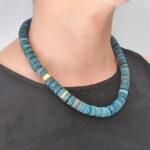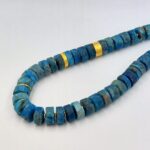 Description
Unusual and striking discs of raw, partially-polished, blue apatite with yellow gold spacers and textured gold decorations and clasp. The colour and texture of the gemstones used for this necklace remind us of ancient Roman glass.
Total length 19 inches
A one-off piece designed and made by Katia
Materials
Apatite is formed in rock when magma or lava cool, creating cracks and fissures where liquids and mineralised organic matters collect and crystallise over millions of years. This beautiful and rare gemstone is most often found on sites of ancient lakes or seas
9ct yellow gold disc, spacers and clasp bear Drift's London hallmark.