Kyanite & silver Pendant
£780 (+collar shown £78)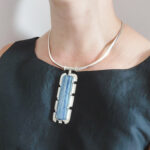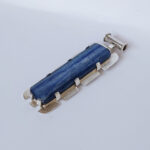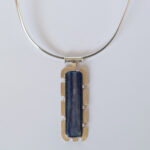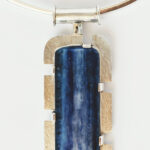 One of Drift's many pendants made for our collars.
The pendant is created around a single, large, translucent kyanite gemstone with beautiful iridescence and grain.. This is set in heavy, textured, hallmarked sterling silver with a hint of Art Deco influence.
The collar is one of our signature items and we have had the same (solid hallmarked) design made for us for more than 12 years.
Unlike inferior round or v-shaped collars, ours sits and fits well and displays pendants at their best: – no turning; slightly higher than a chain (so no neckline problems); almost impossible to lose; no clasp so pendants can be swapped over to suit outfit, mood or style.
Once tried, very few are unconvinved!