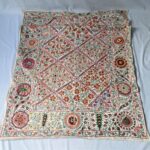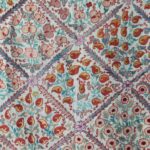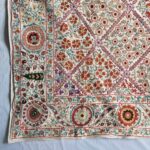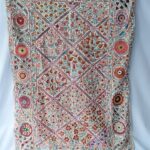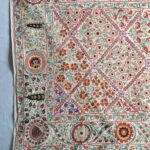 Description
This (relatively) small suzani is, nevertheless, one of the most detailed pieces that we have sourced.  A veritable concoction of beautiful symbolism including pomegranates, seeds and flowers leaving little doubt that the theme is fertility!
An appropriate decoration for the marital bed.
This exquisite piece is 1.0m x 1.5m and comes from the town of Nurata, Uzbekistan
What is a suzani?
Across Central Asia, suzanis are created by a woman and her community to celebrate her marriage.
It plays an important role in the wedding ceremony and covers the marital bed and is presented to the groom as part of the dowry representing the binding of the two families.  Hand-woven fabric strips, in this case silk, are taken to the draughtswoman of the local community who would mark out the desired pattern.
The strips would then be distributed for embroidery by the women of the family before rejoining.  Often, suzanis will display differences in colour or slight misalignment of the design at the joins and this is considered to add to the personality of the piece.
After the ceremony, the suzani might be displayed opposite the main entrance to the home but they are also considered an investment that may be sold to help pay for a future family event.
A small but exquisitely detailed example