Large Vintage Uzbek suzani
£3200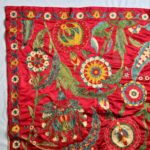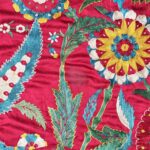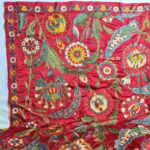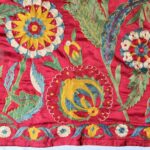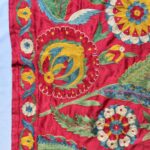 Description
A riot of colour; exquisitely embroidered blooms are spellbinding in this unusually large silk suzani embroidered in the ancient city of Buhkara. Pomegranates and carnation flowers intertwined with vibrant green vines symbolise fertility, long life and happiness.
This truly magnificent, one of a kind piece, measures 240cm wide by 280cm long, and shows signs of minor, sympathetic restoration.  It has a contemporary backing of calico so it can be used as a bed cover or a wall hanging
What is a suzani?
Across Central Asia, suzanis are created by a woman and her community to celebrate her marriage.
It plays an important role in the wedding ceremony and covers the marital bed and is presented to the groom as part of the dowry representing the binding of the two families.  Hand-woven fabric strips are taken to the draughtswoman of the local community and she would draw out the desired pattern with a free hand. The strips would then be given to the women of the family to embroider. When the strips are re-joined, there are sometimes points where the different colours of the yarn or the design doesn't line up perfectly and this adds personality to a piece.
Large suzanis are made for special celebrations of high-ranking families and would be displayed opposite the entrance of their home to be admired by visitors.
" A magnificent celebration piece"