Plan B
So, we were in Thailand in January 2020, organising gems, pearls and a planned trip up through China again (we love China – unfashionable, we know) when the Covid thing changed everything.  No China that year;  so, where should we go?
We had aborted a trip through Northern Burma (ok, Myanmar, but we're traditionalists) a few years ago when Kat caught scrub typhus (see earlier journal) and had to be evacuated out.  This was our opportunity to finish that trip.
Mandalay
The Plan B, then, was to pickup where we left off….  an exploration of Mandalay, then a full day's river boat journey to see the glories of Bagan (one off the bucket list ) and try and find the very best "court" quality lacquerware, made for Burmese Royalty centuries before and still, our previous research suggested, made in very small quantities by one or two families; thence onwards to Inle Lake for a wander thru untouched villages and more possible "finds" before returning to collect our various commissions in Bangkok.
With Kat's asthma, John's heart and the rise of coronavirus, what could possibly go wrong?
An easier evacuation route than last time, at least?
In the guide book Mandalay is described as busy, concrete, smog-filled metropolis and it's true.  I guess if you're just passing through, Mandalay is hard to fall in love with.
But our first impressions were of a hugely friendly, safe and optimistic city in a country that's much more prosperous and open than several years ago. Walking around Mandalay we would frequently hear a  friendly callout 'Mingguhlaba' ( hello) from the locals and, occasionally, get a shy invitation for a selfie and a chat.
Mandalay is famous for the three core commodities on which the economy of the city and region are founded; gold, jade and opium. We saw two.
(For jade tales and the reason we didn't bring any back, see our other post)
U Bein Bridge
This was a sourcing trip… but we're not going to pass through Mandalay without a side trip to see the longest teak bridge on Earth, are we? It's called U Bein bridge, is well over 1km long, is constantly used by the villagers bordering the lake, and it's gorgeous. We came home with over 200 pictures of it.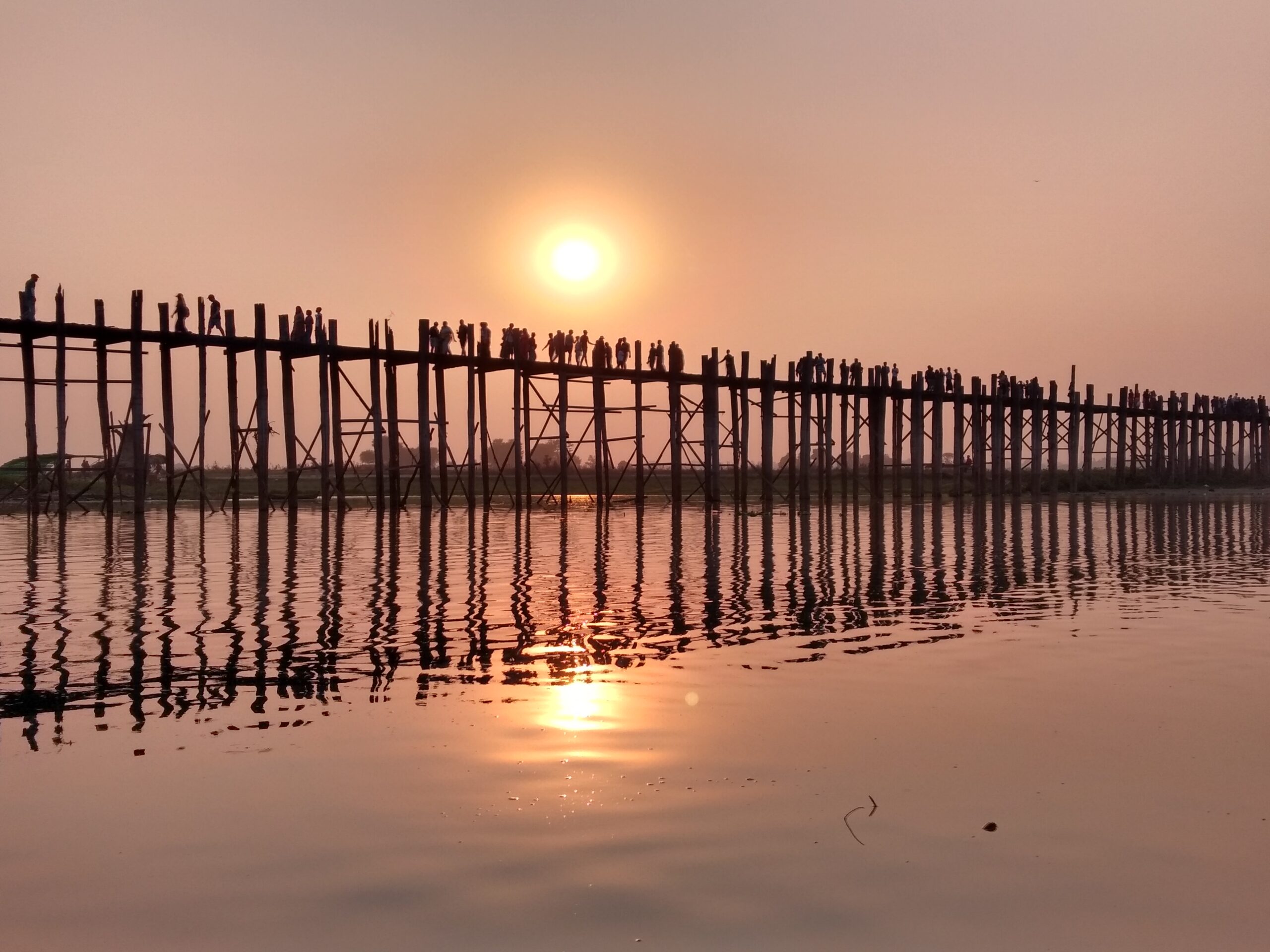 Bagan
Then a long, languorous boat trip down the Irrawaddy to Bagan.
Nothing prepares you for that.
Many will have heard of Machu Picchu and Angkor Wat but Bagan surpasses both – bigger, older and arguably more magnificent. An endless landscape of well over 3000 pagodas, temples, stupas and monasteries, built by the Bagan kings between the C11th & C13th, laid out haphazardly on a sun-baked plain, framed by the river, with a distant mountain range as its backdrop.
It is stunning.
The traditional form of transport in rural Myanmar is a horse-cart and we were happy to be shameless tourists for a while and hired one for our initial explorations.
It was quite other-worldly, clip-clopping along empty dust tracks in the twilight and coming across beautiful, ancient temples, each one housing nothing but a buddha.
Traditional Hospital Visit
It sounds like we were just holidaying, doesn't it?
But no!  Every day we were visiting potential sources for the lacquerware we were sure was still there. Unfortunately there isn't a directory of makers, online or otherwise, so we resorted to quizzing shops, phoning bemused galleries, and chatting to any local who might know something.
Of course we visited the large tourist showrooms where coaches disgorged the commission-generating tour groups who were shepherded around and force-sold poor quality pieces.
And, of course, that was unhelpful and dispiriting. This situation isn't new to us.  But, we didn't give up our principles.
We've said before that we have often had clear evidence of the "silver lining" theory and here was another.
As we had left Thailand (via a fleeting visit to some of our regular sources in Java and Bali) the various and contradictory news reports about the expanding virus outbreak was making us cautious but not overly fearful.  It was early days and the mortality numbers were still largely unknown.
The sparsely populated and touristed region of Burma that we were now in, seemed relatively remote and safe. Hmmm.
A few days in and Katia caught an unidentified virus which intensified her asthma and became rather serious (bet you can't guess why we were concerned – but there were no tests available at that point!)
A tiny but superbly competent village clinic treated Katia but recuperation necessitated a 2 week longer stay than planned.
As we convalesced, we walked to get our strength back and our wandering took us down lanes that we hadn't ventured down before.  Eventually, and quite by accident, we happened upon a  workshop and home owned by a family, headed by Nwe Ni, who were making the gorgeous, museum-quality style of lacquer that we had been trying to find.
A silver lining in the extreme!
The process of making the original form of lacquer is complicated and time consuming and has been handed down through many generations. (Japanese, Middle Eastern and European "lacquer" is a much more recent derivative.).
The best quality lacquer is based on split bamboo, sealed with powdered fossil tree and lined with fine linen  before applying up to 30 coats of lacquer, each layer requiring to be "cured" for 2 weeks in a cool, humid cellar.  It's not a quick process.
Nwe Ni's craftsmen and women, each having served at least 6 or 7 years apprenticeship, carry out their particular element of the painstakingly precise craft – the men traditionally draw the important outline of the design whereas the women only create the exquisite detail, texture, overall quality, finish and style of the piece !!!
Each object is a superb work of art and takes at least 9 months for even a simple design.  Of the small number of exquisite pieces that we selected, many had taken 15 months or more.
So, unusually for our sourcing trips, we did not commission pieces to be made for us!
But then came the issue of getting ourselves, and the lacquer, back to the Isle of Wight.
With borders fast closing behind us, we made it out of Myanmar to Bangkok in early March 2020 and thence to the UK just in time for lockdown.  The tortuous shipping took an extra 5 months but eventually arrived intact and Nwe Ni's wonderful pieces are on display in Drift.
Once again, despite misfortune, we had fallen in love with Myanmar.
The country has many problems and an oppressive government but the ordinary people remained strong, charming and kind.
We have endeavoured to keep in touch with several during the awful events since our visit.